Over the last couple of months here at NWT we have been very busy updating our showroom, and we are proud to say it is now completed! We have completely re-modelled our bathroom suites and have added some new radiators, which are now more luxurious than ever.
---

Radiators & Towel Rails
Our extensive selection of Designer Radiators & Heated Towel Rails are available in a wide range of styles, sizes, colours and heat outputs. Selected radiators and towel rails can be installed on your central heating system, stand alone electric or as dual fuel depending on your requirements, leaving many options for install. Our products are unrivalled for quality, performance and value for money.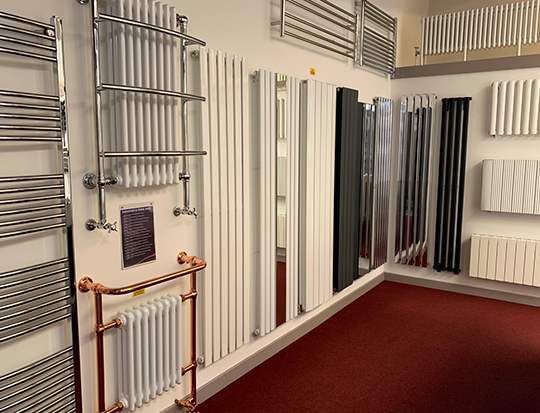 Including some of our most popular radiator ranges such as the 'Brecon' and 'Corwen' ranges, our radiators and towel rails that are on display showcase the very best of our large selection.
Shower Bath Suite
Why not make the most of your bathroom space with a combined bath and shower install. This suite is perfect for a bathroom that needs to save space, with all the amenities and features still available.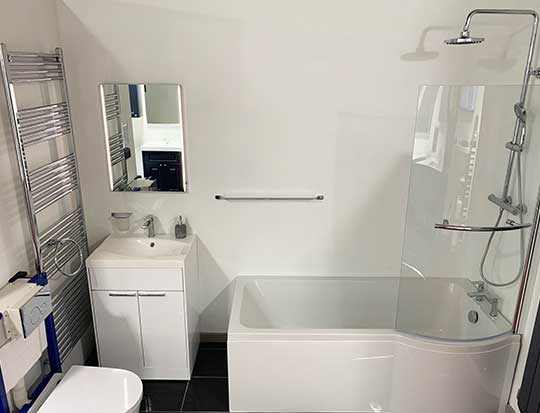 This booth includes the stylish and practical Craster Bathroom Unit, Modern Compact P-Shaped Shower Bath and the sleek Weeton Led Mirror for instant light and ambience.
Discover more about this booth and the products in it here.
Traditional Bath Suite
This booth is ideal for period properties. Our range of roll top baths, ceramic basin & pedestals and column radiators make an ideal solution, giving you modern manufacturing techniques with that traditional aesthetic.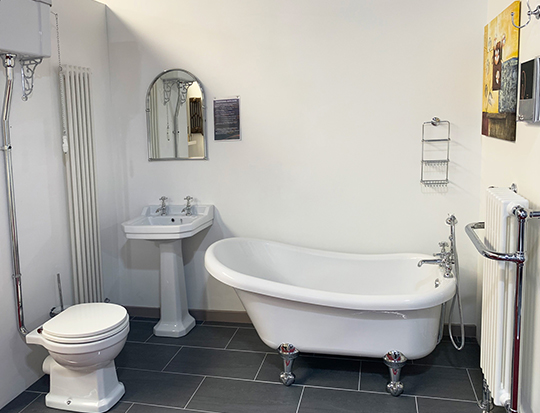 Including the Camden Traditional Slipper Bath with gorgeous claw feet, the Holborn Low Level Pan & High Level Cistern Toilet and the classy Abbey Traditional towel, why not introduce some vintage style into your new bathroom?
For more information on this booth, click here.
Cast Iron Suite
Our stunning range of cast iron radiators are designed, assembled and finished in the UK. They are a unique statement piece of designer heating.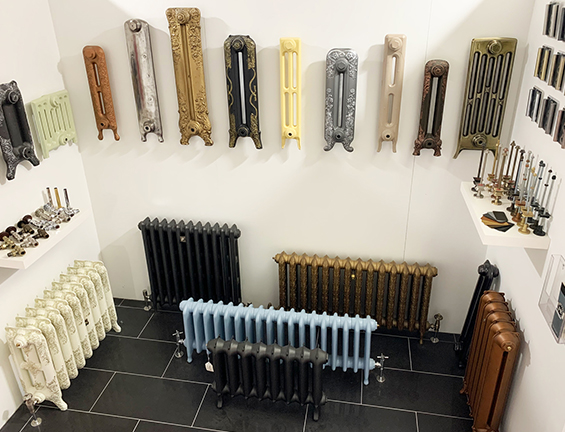 Our cast iron radiators combines modern manufacturing techniques with that vintage, classy look, giving you the best of both worlds. You can purchase with confidence knowing that your new vintage looking Cast Iron radiator is made using the best of modern manufacturing techniques.
For more information on this booth, click here.
Electric Panel Heaters
Here at NWT we offer high quality electric panel heaters to fit your every need. Our Nova Live range of economical electric heaters come with a built in digital thermostat and full 24 hour, 7 day timer. The space friendly design is married perfectly with a high heat output, ranging from 1000W, 15000W and 2000W, giving you maximum efficiency whilst keeping your space.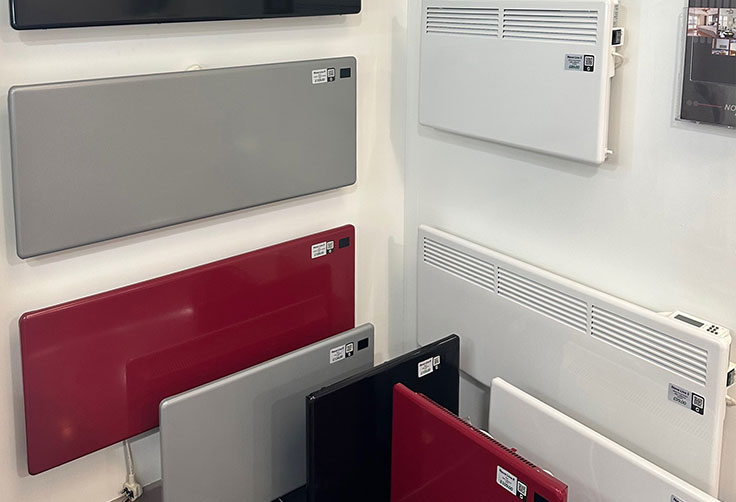 The 'R' range offers 4 modern, eye-catching colours: White, Grey, Black and Red, a colour to suit any aesthetic needed. Discover more about this booth here.
Whirlpool and Airpool Bathroom Suite
Taking a dip in a Whirlpool or an Airpool is one of the most luxurious ways to relax after a long day. Coming in a choice of 6, 8, 10 or 12 high powered jets and in multiple sizes, why not upgrade to something you truly deserve?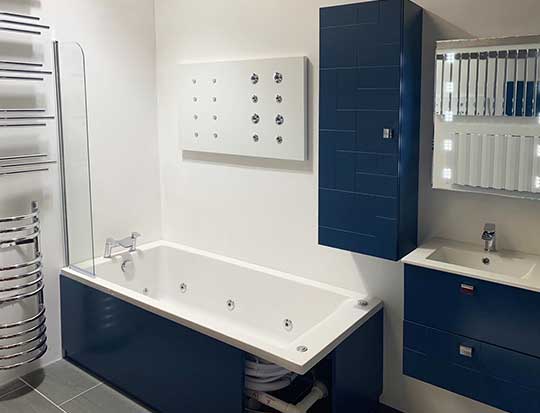 The easy maintenance design of these classy baths mean there is no fuss when it comes to cleaning or installing. You can even pair these baths with some of our designer bathroom furniture seen in this booth, such as the slimline 'Alpha' LED Bathroom Mirror – perfect for narrow walls and featuring 60 energy-saving LED bulbs.
Discover more about this booth here.
Shower Enclosure Suite
Our Shower Enclosure Suite includes everything you need to give your bathroom that modern edge. Featuring the stylish 'Velar' Matt Black Shower Screen, paired with the matching Black Shower Column and complimenting Designer Slimline Shower Tray, this suite will give your bathroom the new sleek, modern look that you've been looking for.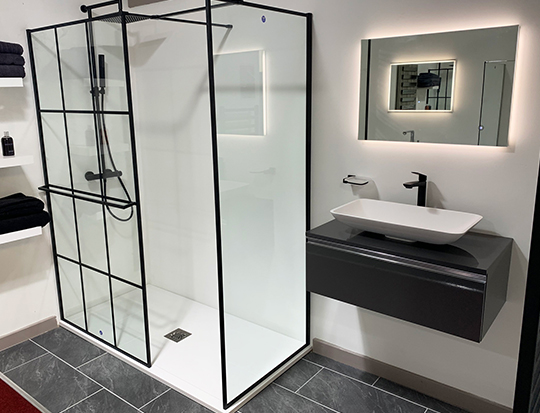 The ultra modern Vida Anthracite Vanity Unit is a sleek bathroom vanity that pairs perfectly with the black theme of this suite. The unit is finished in a modern anthracite finish and looks great with a countertop basin.
Discover more about this booth here.
Ultraheat & Kudox Radiators
The Kudox & Ultraheat branded radiators and towel rails have been hand selected to compliment our existing NWT range, ensuring quality and efficiency is at the forefront of the range. We display some of the most popular products that both of these brands have to offer such as the stylish and efficient 'Klon' range and the ever-popular 'Alulite' range.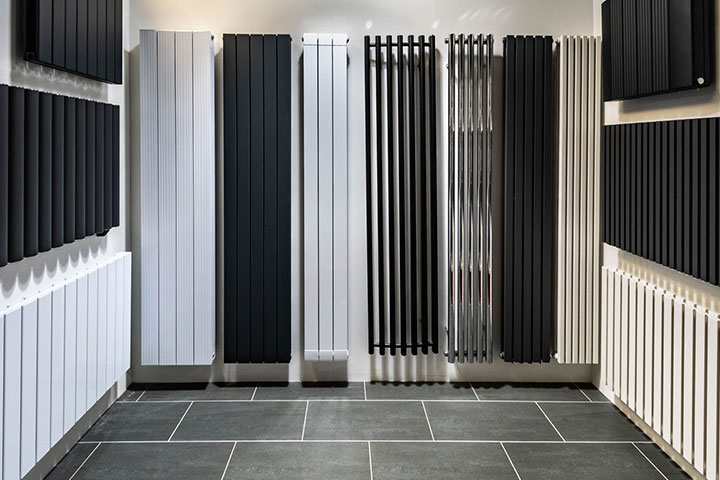 The range of stylish colours and heat outputs of these radiators mean you can find the perfect addition to any room needed. Find out more about this booth here.
Aeon Radiators
The Aeon ranges now confirm that radiators are no longer just boring white panels, but can truly be a piece of art, becoming a statement piece for your home.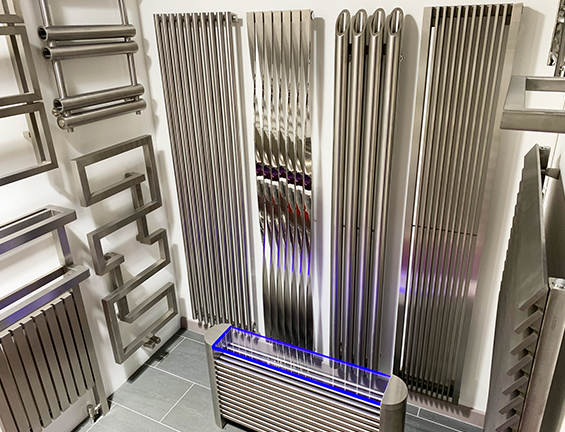 The Luxurious heated sculptures from AEON combine stunning aesthetics and practicality. AEON has pioneered the manufacture of stainless steel radiators and heated towel rails. With a collection of over 80 designs available in 38 countries, AEON's hallmarks are high quality materials, innovative design and expert manufacturing backed up by a 10-year product warranty. Learn more about this booth here.
Couples Bathroom Suite
The Couples Bathroom Suite is the personal favourite of many of our team here at NWT. The elegantly lit 'Joy' LED Mirror combines effortlessly with the modern, contemporary oak wood-effect finished 2-in-1 'Joy' basin and furniture unit. The stunning symmetry of the dual basin and tap design makes a beautiful yet practical installation.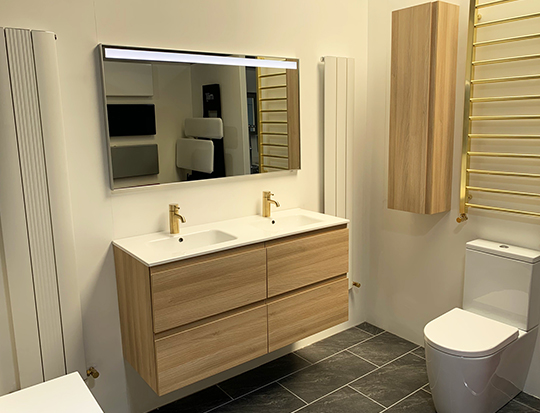 The luxurious Mineral Brushed Brass Towel Radiator pairs perfectly with the similarly finished Mineral Brushed Brass Basin Tap that gives the booth a real touch of class and style, making it the perfect addition to any bathroom. Learn more about this stunning booth here.
Wetroom Suite
Follow the latest trend and install an easy maintenance Wetroom designed to your exact specification. Our range of Wetroom Shower Drains are created from grade 304 stainless steel to ensure the highest quality in both looks and longevity. This booth includes the luxurious 'Luxe' LED Bathroom Mirror with a durable aluminium frame, the sleek and modern 'Espada' shower blade and 'Quadra' chrome slide rail.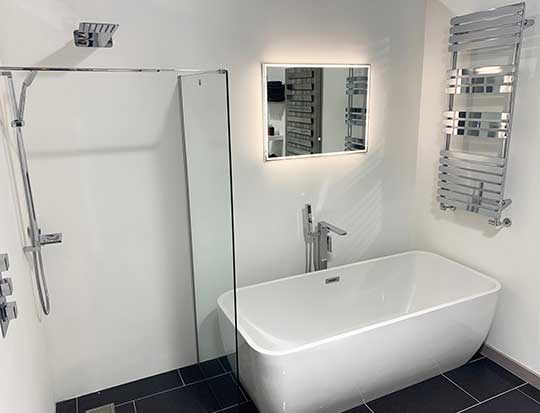 With everything you need to start your journey, why not treat yourself to a luxury walk-in wetroom? Discover more about this booth here.
Carisa Radiators
Carisa radiators combine innovation, design and the latest manufacturing technologies to be at the forefront of the designer aluminium radiator and towel rail trends. Browse the wide range of unique styles with impressive heat output performance, all hand-picked by ourselves here at NWT.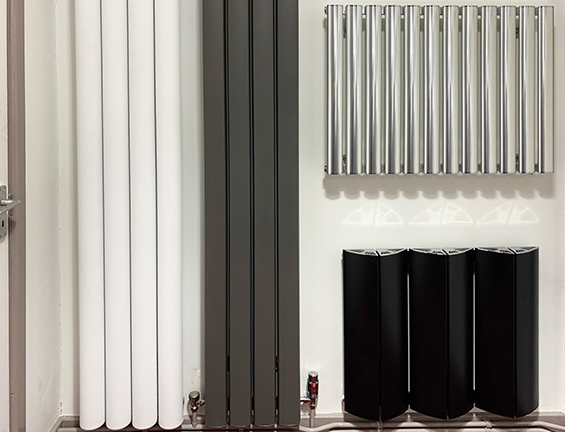 Whether its the stylish 'Ajax', the impressive 'Otto' or the functional 'Vesta', Carisa radiators combine style with substance, bringing you the best of both worlds. Learn more about these radiators here.
Traditional Cloakroom Booth
The Traditional Cloakroom Booth is perfect for space-saving. Although the designs may be slightly smaller, you still keep the same quality and usability as the bigger pieces, meaning you are not sacrificing functionality for quality. This booth is designed for those who prefer a bathroom brimming with traditional features, the Holborn range encapsulates Victorian style through angular lines and elegant moulded detail.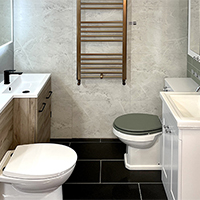 Featuring the gorgeous traditional Windsor Towel Rail and Holborn Curved Floorstanding Vanity Unit with matching Mirror Cabinet, this booth combines both space-saving techniques with traditional styling. Learn more about this booth here.
Bathroom Furniture Booth
This booth showcases some of our favourite bathroom furniture that we have to offer, hand picked by us. Including three stunning LED Mirrors with de-mister settings, motion activated 'on/off' and bright luminescent LED lights.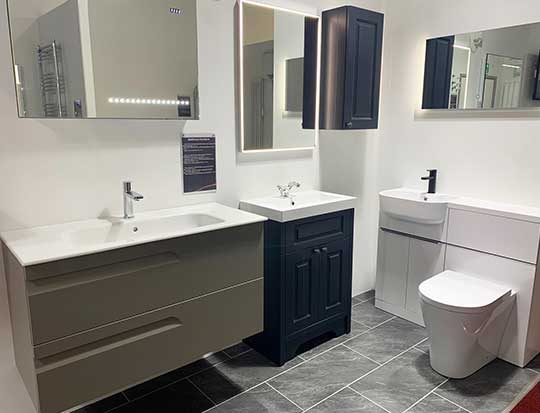 Our LED Bathroom Mirror collection has been carefully designed to boast not only aesthetic beauty but practically and ease of function. This booth also includes the compact, practical 'Linea' unit, stylish Atlanta 'Bamburgh' and the spacious 'Vitale' wall-hung unit in a modern smoke finish.
---
Take a virtual tour of our showroom here.
You can visit our showroom to see these products for yourself from Monday to Friday, 8:00am-4:30pm at Unit 5 Parc Caer Seion, Conwy, LL328FA.
For enquiries, please contact info@nwtdirect.com or call us on 01492 573738, where our staff are more than happy to help.